Disability Awareness Training for Taxi and Private Hire Drivers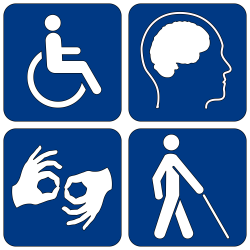 Taxi drivers and private hire drivers take thousands of fares in any one year and we can guarantee that potentially hundreds of those people have some form of disability – many of which are hidden. Drivers need the skills to be accommodating and to offer a service that is adaptable to the needs of others which is what our course will provide. The course is TQ Accredited and is a necessity for a Private Hire And Hackney Carriage Driver License.
Disability isn't all about wheelchairs; in fact wheelchair users make up just 5% of the disabled population with many people not understanding the full scope of the disabilities people may have and what additional support they require.
The Disability Awareness Training for Taxi and Private Hire Drivers course gives a excellent awareness to an area where people may feel uncomfortable and uncertain but overwhelmingly want to get things right.
The aim of this training is to help delegates to be more confident in their day-to-day dealings with disabled people. Throughout the course you will learn: what is disability, the different types of disability including dementia, legislation regarding customers, employers and disability discrimination, as well as practical advice on how to meet the needs of disabled people whether they are customers or colleagues.
Using interaction, role play and through discussions the Disability Awareness Training is designed to give delegates confidence, self-assurance and therefore able to give disabled people the same high-level of service that is undoubtedly given to everyone else.
On course completion delegates will receive a certification of attendance. To book your place on the course get in touch with us at 01642 602600 or info@jd-training.co.uk
The Dates Available Are As Follows: